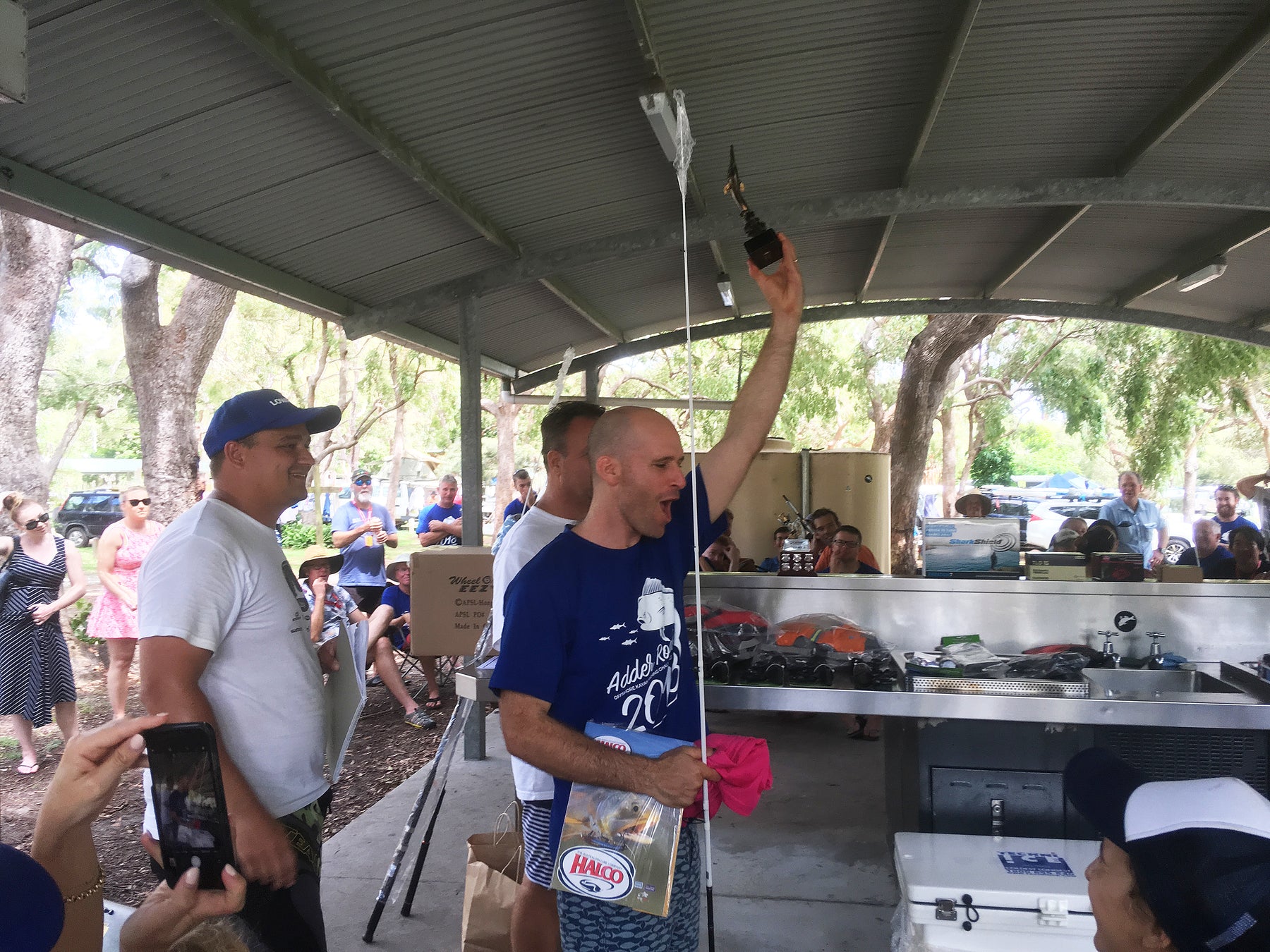 Adder Rock 2018- The Report
The 6th annual Adder Rock Offshore Kayak Fishing Challenge is done and dusted! 2018 saw a heap of spirit shown by the paddlers, some good fish, plenty of laughs and a few misadventures, all making for a cracking weekend away over at Straddie.
Before I get any further into it, a huge thanks to all of the competitors for coming along, and of course to the many sponsors who were kind enough to jump on board and put up load of cracking prizes to further motivate the competitors when their arms got a bit sore!
It's safe to stay that the anticipation for the competition started to ramp up with the forecast- 7 days away the conditions were looking somewhat doubtful with cyclone Linda set to be hovering off the coast, but fortunately it came good later with far more reasonable weather being predicted for Saturday and even less wind and swell on Sunday.
The fun, as always, started with the Friday night BBQ/briefing session at 6:30 where plenty of delicious food and beer was enjoyed before the teams were called up, welcome packs were dished out to the 83 paddlers and plans were made regarding the fishing the following morning. The team competition in particular was fierce this year with 4 teams from Brisbane, 2 from the Sunshine Coast, 2 from the Gold Coast and the Mexicans from south of the border all battling it out to nab the coveted team trophy.
The new benchmark scoring system where trophy fish from each species are awarded points multipliers also made different options and locations extremely viable for those looking to bring home the bacon, with quality reef fish like large spangled emperor or snapper and quality sportsfish like Giant Trevally attracting plenty of points this year as opposed to the old system where longer fish like spanish mackerel were instantly more valuable. This made for a variety of different fishing techniques and locations being used by competitors and made for a fantastically dynamic competition with some opting to chase pelagics and others hunting some hard-pulling reef dwellers. 
Early on Saturday morning, most of paddlers managed to recover from Friday night's efforts and rocked up on the beach with their loaded kayaks ready to go when there was enough light to launch safely. A couple of more interesting launch techniques made for some good viewing from the beach, but once everyone made it past the breakers there were, as always, two distinct groups- one heading east towards boat and dune rocks and the others heading north to try their luck at the closer and less exposed shag rock and middle reef.
Reports over the radio were a bit quieter than usual, but by the time the session had ended at 11:00 a few cracking fish had come out of people's hatches with the standout an 89cm horse of a snapper landed by Gavin Visser of the Mexican Mullets. Other standouts were a few nice spangled emperor and spanish mackerel, but despite the standout catches it was clear from this session that the fishing wasn't as going to be quite as red hot as everyone was hoping.
After a quick break and a group photo, 2pm saw another session lasting for 3 hours. A few more people sat this one out after paddling all morning, but the weather had improved somewhat for those that did get out with a bit less swell to contend with. The fish however were a bit few and far between again, but Ido Bar from the Sunny Coast Sand Whiting managed to take a solid lead by backing up a Spaniard he got in the morning session with another similar sized fish and a couple of nice moses perch.  Timothy Kreis who was debuting for the Brisbane Bonitos also managed an extremely respectable 79cm snapper to round out the session.
After a good night's sleep for some weary paddlers, Sunday morning saw some smaller waves and lighter winds as predicted- it still wasn't a glass out, but the difference was notable and appreciated by many! The somewhat quiet fishing continued, but more people did land fish in this session with a few Spaniards, some nice snapper and solid spanglies all making their way to the measuring board, many of which were caught by new competitors to the competition which was fantastic to see people getting a good introduction to what it's all about!
Ultimately though, when all was said and done, Ido's consistent captures of Spaniards and mixed reefies placed him firmly in the lead followed by Alex White with a mixed bag of trevally and kingfish, then Gavin Visser with his beautiful big snapper. Ido picked up a massive prize pack with plenty of goodies, while Alex opted to go home with a brand new Viking 2+1 kayak kindly put up for grabs by the guys at Viking and Gavin nabbed the kayak upgrade voucher from Stealth.
In addition to the individual points comp, we had a few prizes up for grabs for the biggest demersal, biggest pelagic and most species which were also won by Gavin and Ido for their catches.
The team competition however is what everyone was really hanging out for, and Ido's efforts along with some good scores from a couple of the other guys saw the Sunny Coast Sand Whiting holding up the trophy for the third time- well done gents. 
An additional shoutout goes to a few paddlers- Scott Davis, Micah Bernhoff and Clive Mathias- for helping out other guys who were in need of assistance while the jetskis were on their way. All manner of things can happen out there and it was fantastic to see such great support for one another on the water where it was needed.
Don't forget to enter the photo and video comp for another chance at some nice prizes!
For the photo comp, send your entries in to dennist@kayakspecialists.com.au 
Details for the video comp can be found here.
Our photo gallery from the event can be found here.
Lastly, many thanks to all of the sponsors and competitors (especially those who travelled long distances to attend). It was certainly well worth it and we hope that it was enjoyed by everyone! We at AKS certainly love seeing the sport continue to grow and look forward to seeing many more attendees next year!  
In total, 35 of the 83 anglers caught fish, with 57 fish scored from 15 different species.
The top ten paddlers were as follows- well done gents!
Ido Bar
Alex White
Gavin Visser
Wayne Eden
Boris Laffineur
Roger Louw
Tim Kreis
Scott Davis
Ryan Lee
Damon Mattingly
Tight lines,
The AKS team