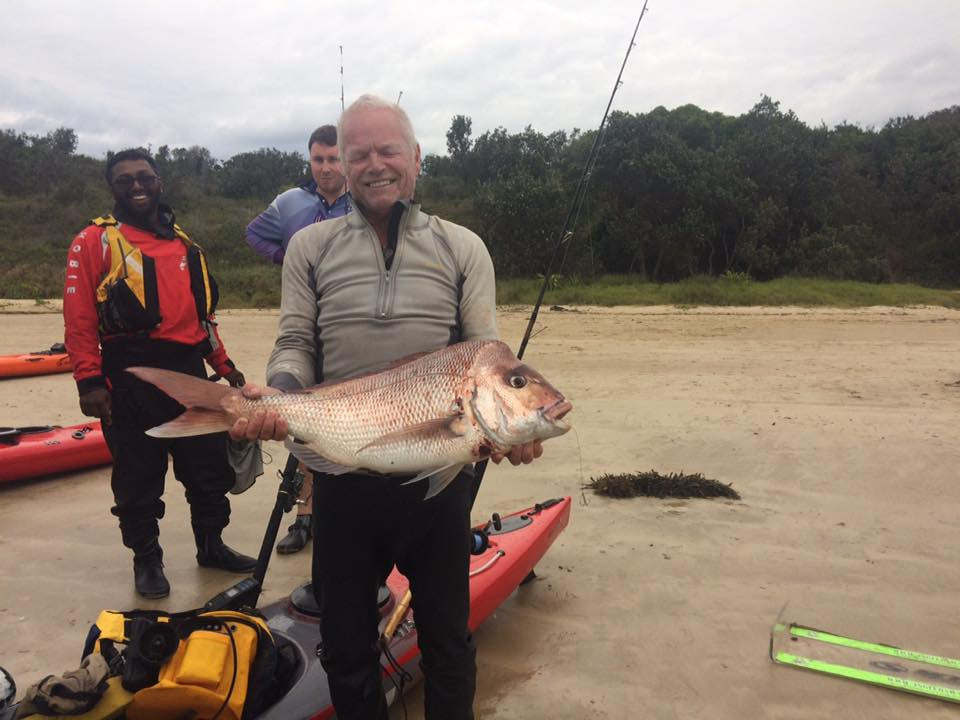 AKS Coffs Challenge Report
For the second year running, the North Coast of NSW was visited by a number of keen offshore kayak fishermen for the Coffs Harbour Kayak Fishing Competition, hosted by Australian Kayak Specialists, Australian distributors of Stealth Kayaks.
This year, the event took place over two days (Saturday and Sunday)  with competitors getting two five-hour morning sessions to paddle out and catch some scoring fish. It was good to see a solid turnout of Queenslanders travelling south of the border to fish the waters of the New South Welshman (Mexicans), a number of which had had made the trip to Stradbroke Island earlier in the year for the Adder Rock competition.
A few Victorians also made the long drive up for a fish – an impressive effort indeed. Although the fishing was quite tough with the water being fairly green and cold, the field of 35 competitors managed to land a few good fish between them which made for a great weekend on the water.
The scoring system this year was based on a benchmark system on fish length which added multipliers for trophy fish such as big snapper, mackerel and an assortment of other hard pulling and great-tasting species, and reduced the points awarded for undesirable species such as mackerel tuna, with catch, measure and release being encouraged for these fish in particular.
On the first morning after a quick briefing, the line-up of kayakers were greeted with sublime paddling conditions- low wind and small swell made for an easy launch at Diggers Beach and easy, relatively dry paddling once out a bit wider.
Although baitfish were plentiful and most who tried managed to acquire some live slimeys, the predatory fish weren't thick on the day and many a bait went untouched for the full 5 hour session. A few beautiful fish were caught though, including the 'fish of the comp' which went to Boris Laffineur from Brisbane with a cracking 81cm snapper.
Other standout catches included Kim Cowley from Byron Bay with a pair of longtail tuna (one released), Ray Lillis-Crep from Brisbane with a solid longtail tuna and Coffs Harbour local Paul Pallet with a nice spotted mackerel and a decent released King Fish. One contestant also needed a trip to the tackle store for some new line after a considerably lost battle with a very large pelagic of some kind...
The second morning brought with it a lot of anticipation, and quite a bit more wind than the glass-out conditions of Saturday. The bait was definitely more scattered and drifts were quicker with the added wind speed, but some solid fish were still landed by those who found the quality livebait. Paul Pallet continued to add to his growing mixed bag while Greg Warren from Buderim pulled in the session's standout fish- a 78cm snapper and Ronan Lynch from Brisbane also managed a solid spotted mackerel.
The individual competition was close with only a few points separating competitors, but Paul Pallet's local knowledge and mixed bag saw him take out top honours, followed by Kim Cowley, Ronan Lynch, Ray-Lillis Crep then Mike Robertson. These top 5 scorers, as well as Boris with the best fish of the comp all scored prizes including rods, reels, lures and other accessories which will no doubt be put to good use. The team trophy this year, however, went to the invading Queenslanders with a total score of 49.77 points followed by NSW with 47.27 , while the Vic lads put in a valiant effort with 43.85 points.
Although the fishing was definitely slower than would be ideal, the competition was great fun and the barbecue at its finish was a highlight as always. With the last Kayak Specialists competition of the year done and dusted, it's just about time to start getting excited for the comps that next year will bring- that is if you're not too cold to be out fishing!
Tight lines,
Owen Gray.

Scores:
Paul Pallet - 191.5 Points
Kim Cowley - 175 Points
Ronan Lynch - 163.5 Points
Ray Lilis Crep - 137 Points
Mike Robertson - 133.7 Points
Best Fish: Boris Laffineur - Snapper 81 cm
Runner Up best Fish - Greg Warren - Snapper 78 cm