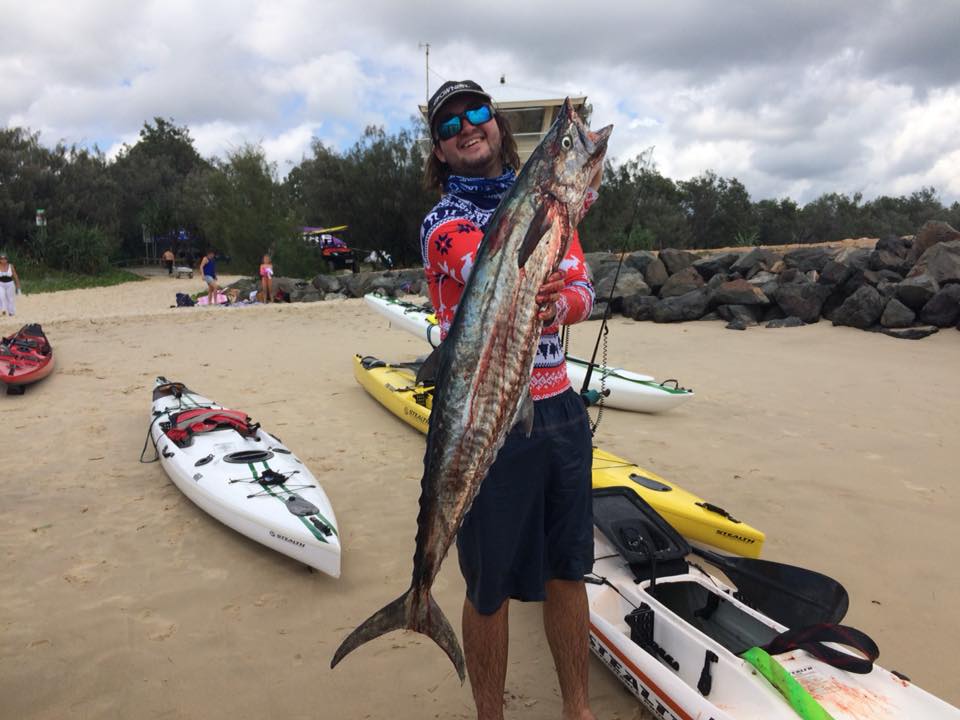 AKS Noosa Challenge 2018 Report
Despite Cyclone Gita hovering around off the coast somewhere causing a very solid swell forecast which made many surfers excited and scared quite a number of our 65 entrants away, the Australian Kayak Specialists Noosa Challenge sponsored by Davo's Tackle World went ahead with surprisingly nice conditions greeting the 52 kayakers who showed up at Middle Groyne at 5:00 AM on Saturday. It was great to see a good number of new faces in amongst the more seasoned crowd and a big thanks as always goes to those who made put in the effort of driving up from Brisbane and further south.  
Most made it out through the waves relatively unscathed and started rigging rods before heading off, as is always the case in this competition, in two distinct directions with a small pack heading north towards the Halls Reefs and the majority making an eastwards dash towards Jew Shoal and Sunshine Reef. It was a fairly slow day on the whole with plenty of small sharks mauling carefully prepared baits and lures alike and making a pain of themselves whilst being de-hooked, but a couple of anglers still managed to snag some nice fish with most catches coming from Sunshine Reef- a good reward for the effort it takes to paddle out there.
Most made it back to the beach on time for their catches to be scored and with the shore break quite a bit larger than usual, watching a few of the returns was good fun! In total, 12 of the 52 kayakers out there managed to land fish (with one late entry from Jarrad Rogers), but a few nice fish were pulled out of the hatches including one and a half solid longtail tuna from newcomer Jord Wiegerink, proving that not all of the sharks lurking around were small!  Other captures included striped, yellowfin and mac tuna, spotted and spanish mackerel and a couple of cobia for good measure.
This year we adopted the Adder Rock prize table layout with the top places getting to pick from a selection which was made up of a number of vouchers from Davo's Tackle World Noosa as well as plenty of goodies from AKS (AKS team members were not eligible to pick up prizes).
Ultimately when the scores were added up, AKS Team Member Owen Gray took home the trophy with a chunky 127cm Spaniard, followed closely by Brian Hughes who picked up a 120cm model and a new reel with some Davo's vouchers for his efforts! Rodney Pacitti, also working for us came in at third with a spotty and a cobia followed by Dave Stevens and Gavin Visser in 4th and 5th who also scored some great prizes.
The full list of placings is as follows:
Owen Gray
Brian Hughes
Rodney Pacitti
Dave Stevens
Gavin Visser
Jord Wiegerink
Scott Davis
Boris Laffineur
Paul O'Leary
Dave Tunnington
Luke Munro
The boerie rolls and drinks went down extremely well after some big paddles as per usual and were complemented nicely by the wonderful spread kindly put on by Tomohiru Akutsu from Tomonese Cuisine Classes- many thanks to him for coming along! If you're interested in a cooking class definitely go and check out his facebook page and website.
A big thanks again to all who came along and gave it a crack, and well done to those who got fish on what was a fairly slow day if previous Noosa comps are anything to go by. Many thanks also go to Davo's Tackle World Noosa for sponsoring some great prizes, and we hope to see plenty more paddlers at Adder Rock in March!