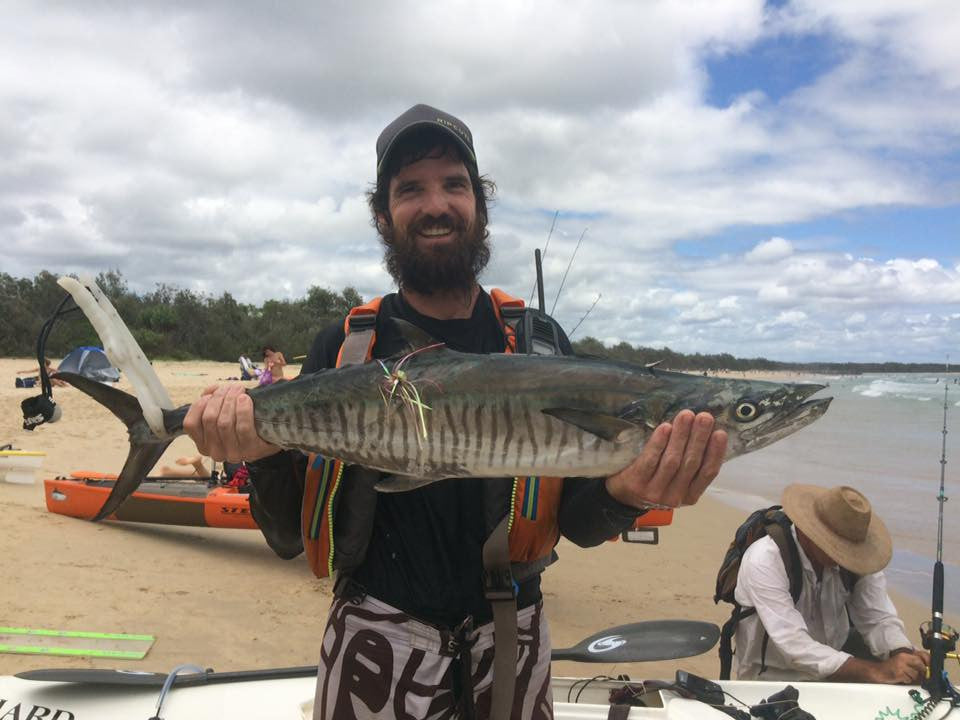 AKS Noosa Challenge Report
AKS Noosa Challenge
On behalf of Australian Kayak Specialists I would like to thank all those that attended the AKS Noosa Challenge over the weekend.
We appreciate the support from all the entrants – from those that didn't need to travel too far to those that put in big drives – the success of these events rely on the participation of yak anglers such as yourselves – so hats off.
I would also like to thank Davo's Tackle World Noosa for their generous sponsorship of the competition and Tomo Akutsu from Tomonese for his Japanese cuisine demonstration. I know that the prizes offered by Davos were very well received and that the food that Tomo prepared had entrant's mouths watering.
I would also like to thank Lenore from QLD DPI fo joining us at the event to gather samples for research. We always enjoy having you there.
This year 56 kayak fishermen entered the AKS Noosa Challenge – which has now set a new benchmark for the event. This marks a 25 % increase on last years' attendance – which is very exciting.
On the day we had 50 entrants' sign out and head out. A few attendees felt under the weather and were not able to launch.
Whilst I manned the beach we also had two AKS representatives out on the water – Rico on the Jetski (who we cannot thank enough for his assistance) and Tom on his kayak (who unfortunately blanked this time round).
Of the 50 entrants out on the water – 22 managed to score fish. 33 Fish were recorded.
As with previous comps our scoring method is as follows:
0.5 pts per cm for fish 1 cm – 49 cm
1 point per cm for fish 50 cm- 99 cm.
1.5 points per cm. for fish 100 cm - 149 cm
Any fish over 150 cm - 2 points per cm.
Brad White took home top honours with 3 Spotties and a Spanish – which earned him 414.5 points. Brad put in some big miles on the day and was absolutely buggered by the time he returned - well done mate.
Paul Pallet placed second with 290 Points – for what was the largest Spanish recorded on the day (136 cm) as well as a Spotty.
Paul Weeks placed third with a Spanish and a Spotty.
Here is the list of those who scored fish.
Brad White
Paul Pallet
Paul Weeks
Alan Agyik
Owen Gray
Paul Oleary
Warren Norup
Dave McGregor
Jarrad Rodgers
Scott Davis
Barry Morrison
Noel Ducray
Robbie Thomson
Wayne Eden
Jason Milne
Rylin Richardson
Justin Mitchell
Mike Robertson
Tim Nixon
Brian Hughes
Jim Cole
Scott McIntosh
Honourable mention to Rodney Pacitti – who caught a nice Mahi Mahi but unfortunately did not score as he arrived back at the beach late.
Honourable mention to Ant Wright who caught and released 5 Pelagics on the day and did not wish to score them.
Honourable mention to Boris Laffineur who tussled a Black Marlin for a while before being busted off.
Honourable mention to Steve Thorne who got a nice spotty but was also too late to score it.
Bragging Rights:
Sunshine Coast should be proud of their efforts fielding the largest team. 23 Entrants in this comp live on the Sunny Coast.
Brisbane had the second largest team of 16 Entrants.
The Gold Coast had 9 Entrants represent them.
Coffs Harbour had two entrants.
*This number indicates the entrants who signed out and participated on the water. Those did not sign out were not included in the team totals.
Team points are calculated by adding the total number of points earned by the teams entrants divided by the number of entrants.
Thus Bragging Rights go to:
Coffs Harbour – 145 Points
Gold Coast – 82.05 Points
Brisbane – 68.93 Points
Sunshine Coast – 45.13 Points
Social Media:
On the day we uploaded as many images as possible of the catches. Be sure to tag yourself in them – like them, share them and tell your mates to get involved in the next comp. If you are on any of the forums – I will upload the results there too – feel free to add your account of the day.
https://www.facebook.com/Kayakspecialists/
Comp Calendar:
Our Next comp is scheduled for 11 Feb 2017. This is the Palm Beach Blitz. It promises to be great fun as it is a race. We have over 35 Entered so far – so it should be a good tussle for the top spot. You can enter here - https://www.shopaks.com.au/collections/comps/products/aks-palm-beach-blitz
Adder Rock 2017 is scheduled for 10 -12 March. We have a huge Prize pool and the event promises to be better than ever before. We have over 45 Early Bird Entrants already and if you are keen I urge you to get in early – we have a draw for Early Bird Entrants to win a new PFD and we send out Entrant only special deals.  By entering early you also ensure yourself a Welcome pack. You can buy your entry here - https://www.shopaks.com.au/collections/comps/products/stealth-adder-rock-offshore-kayak-fishing-challenge-2017
Coffs Harbour – this comp is great fun and an absolute adventure for those looking to fish new places. The fishing grounds are enormous and the fishing excellent. Queensland currently hold the Team Comp Trophy over NSW – Get in there and help your team https://www.shopaks.com.au/collections/comps/products/aks-coffs-harbour-challenge