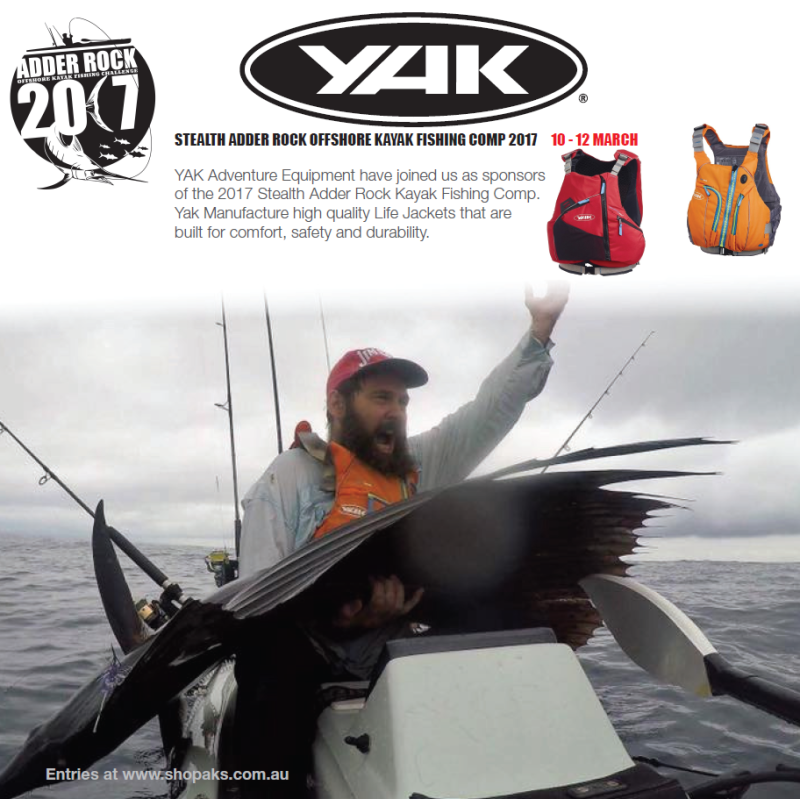 Early Bird Entries For Adder Rock will go into draw for New Yak High Back PFD
YAK Adventure Equipment have kindly come on board as a Sponsor for the 2017 Stealth Adder Rock Kayak Fishing Challenge.
YAK are known for Comfort and Safety and are thus one of our favourite Life Jackets for offshore kayak fishing.
Those who take advantage and register EARLY to be apart of the Stealth Adder Rock Kayak Fishing Challenge in 2017 will go into the draw to win a YAK Highback PFD worth $ 180.
Early Bird entries into this competition ensure that you will receive one of the Comp Tee - Shirts in the welcome pack and now will earn your name in the draw for the YAK Highback life jacket which will be drawn on 1 Feb 2017.
Early Bird Entries Close 31 Jan 2017
The ultimate buoyancy aid for your next touring adventure, river calm or choppy sea, the High Back 60N provides the most advanced solutions in comfort technology design. It's raised back profile buoyancy placement means that no matter what type of boat you are in you can be assure of its comfort properties.
In addition the High Back 60N provides breathable air mesh air flow technology helping you stay cool on even the warmest of days and a sculpted foam design helping to ensure the buoyancy aid moulds to the shape of your body to help ensure you are as fresh and comfortable when you arrive as when you set out.