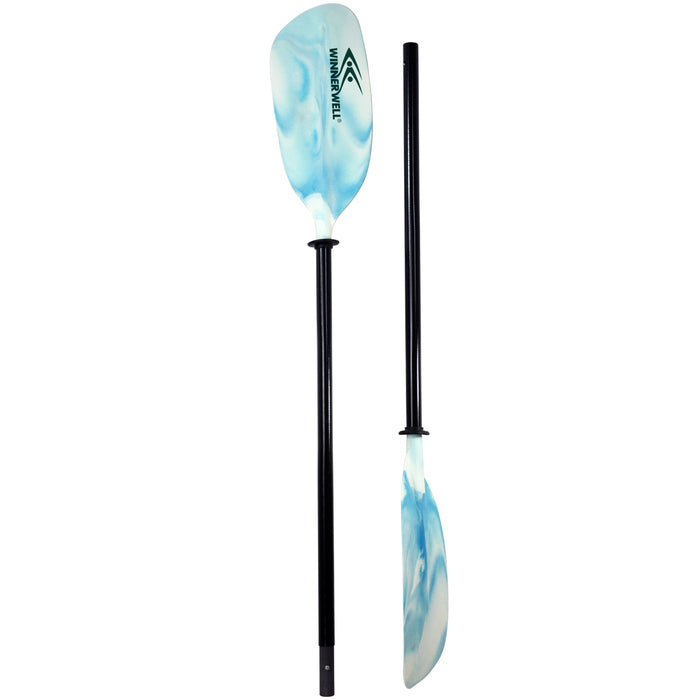 Winnerwell Kayak Paddle Fiberglass Shaft & Nylon Blade Mix 220cm
Sold out
Original price
$61.00
-
Original price
$61.00
Availability:
Out of stock
The Winnerwell Fiberglass-reinforced Nylon blades are lightweight and durable. The asymmetrical, slightly spooned blade shape combined with a lightweight, flexible fiberglass shaft produces smooth yet powerful strokes. Fiberglass-reinforced Nylon blades offer an unbeatable balance of lightweight versus durability. This is a paddle that can take all of the punishment you dish out and give you a great day on the water.
 Features:
Allround 2-piece fiberglass shaft paddle.
Shaft in difference lengths for choice to match your kayak.
Ovalized shaft and drip rings
Moderate-sized asymmetrical blades for paddling in a variety of conditions.
To create a balanced stroke, reducing torque or twisting of the blade.
0-60 degree (L or R) blade angle adjustable.
Specs:


Blade Material: Nylon+Fiberglass
Blade Size: 47.5(L)cm x 20.5(W)cm / 18.7(L)in x 8.07(W)in
Blade Color: Blue and White
Shaft Material: Fiberglass
Shaft Finish: Thread
Shaft Shape: Oval
Total Length: 220cm / 86.61in
Net Weight: 1.22kg / 2.69lbs
Feather Angle: 60 Degrees
Ferrule: Snap Button