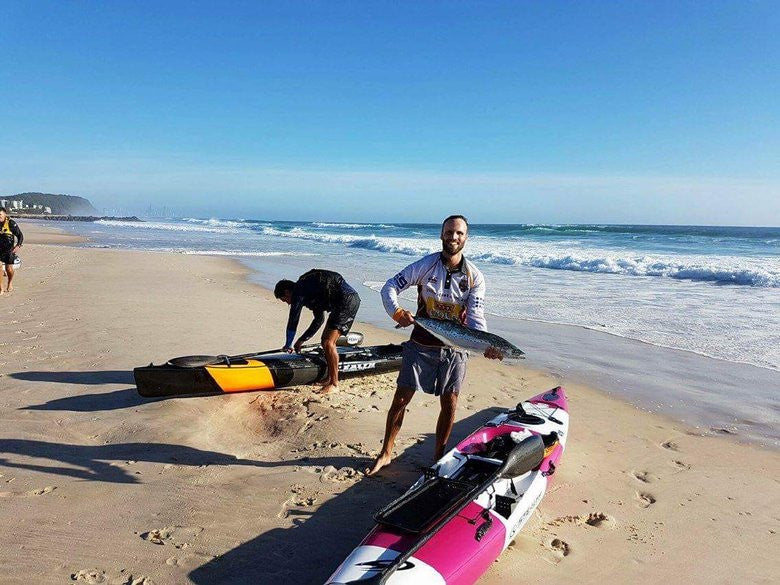 AKS Palmy Blitz Report
On Behalf of Australian Kayak Specialists I would like to thank all of those that attended the first Palm Beach Blitz.
This comp was certainly an interesting one for us.
The format is very different to any of our other events - being a sprint rather than an endurance style event. The winner was determined by being the first on the beach with one of the elected species.
The species included:
Spotted Mackerel
Spanish Mackerel
Cobia
Longtail Tuna
Yellowfin Tuna
Mahi Mahi
GT
Wahoo
Whilst we had around 40 entries come in for this comp - the large surf scared a few off, and the uncertaintity as to whether it would be safe enough to launch saw a few more opt to fish in their regular fishing grounds.
Whilst it was deemed safe enough to launch on the morning - the surf was large and a big hats off to the 21 brave souls who launched. Whilst not all of them made it past the backline ( and some were very unlucky not to do so) - it can be noted that the surf played an interesting and somewhat fun role in this format.
I would of course like to thank those that did travel the distance to join us - even with the uncertaintity of the launch. This event is social and it is not always about putting fish in the hatch.
Well done to Gary Mathias who was not only first on the beach but managed to hook the largest fish for the day. Word is in order to evade another "Fish on Fish Off... Rod Gone" incident Gary cut his second line as soon as he hooked up. Got the 1 metre long spotty in the hatch and hightailed it home.
The race for second was fantastic to watch from the beach. We had received word that Andrew Bodley had a fish in the hatch and was on his way back in - looking through the Binoculars showed that he was not alone. 
Rodney Pacitti ( RokkitKit) managed to beach 15 seconds ahead of Andrew with a Spotty in the hatch (unfortunately with all the excitment I never got a photo ). Wade Chalker landing pretty much at exactly the same time as Andrew - we decided to award them tied third place.
With the 3 first spots taken - word was put out that the entrants were now fishing for the largest fish - not first, second or third anymore.
Rory  Nicolson managed to bring in 3 nice sized spotties, alas none could pip Gary's Spot.
John Poulsen managed the only Spanish for the day - his first off his kayak. He then proceeded to demonstrate exactly how a wave should be ridden in.
Both Rory and John were rewarded for their efforts.
Once again thanks to all those that attended - this event much like the larger event we hosted at Noosa a few weeks back was highly succesful, not because we had a huge crowd but because of the number of smiling faces at the BBQ.
See you guys at ADDER ROCK !