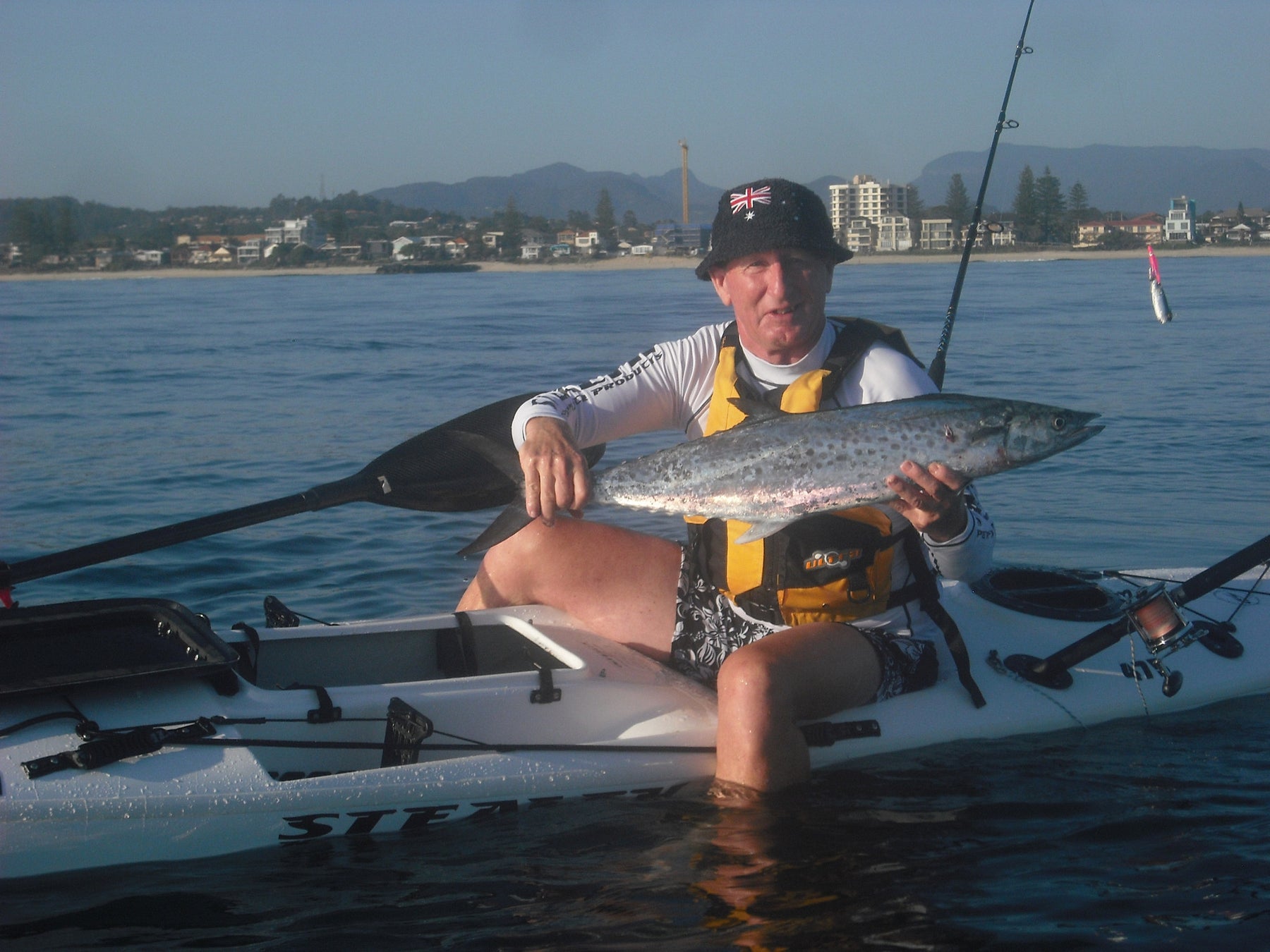 Ants Homemade Safa Rig
I am sure that many of you already have great rigs for catching the species you chase.
I came across something that was posted by a local Stealth Rider a few years back on the Australian Kayak Fishing Forum (AKFF), regarding the rig that he uses to catch the monsters.
Ant has given me permission to repost this
---
Name: Ant
Where I fish:  Gold Coast/ Northern NSW
Rod and Reel: Trolling Rod with Overhead Reel

HotTip -  Ensure weight on the hook to stop the bait spinning when trolling and accept some days they are there and gone the next.

I'll share what I use at Palmy and surrounding areas I can't profess to have designed any of this gear its what I have gleaned from watching and talking to guys out there catching fish. As I fish before work most suitable days I don't waste too much time taking lots of gear. I can park the car and launch and be fishing in 10 minutes. One of the great advantages of the Stealth craft is the large hatch to store all of the ready rigged rods.

Ant's Spanish assault gear:
Rods -2 x 6 ft ugly stiks (gold) line rating 8 - 10 kg Penn Jigmaster 500 with 25 kg braid and 1 metre of 30lb fluoro carbon leader (all have rod leashes)
Rod – 1x  5' 6 ugly stik (gold) line rating 6-10 kg Penn Spinfisher 650 with 15 kg braid set up to jig bait. (see photo bait jig wrapped around foam)

1 gaff, 1 knife, 1 pair of pointy nose pliers, a collapsible bait bucket, and a small tackle box with spare rigs, leader material, bait jigs, sinker, hessian bag for the fish and the GPS with the reef marks.

Once clear of the surf open hatch, out with the rods, GPS on, pillies on, start trolling, or over to the bait reef jig up the yakkas, a few in the bucket, one on the unskirted rig and start trolling. Troll about 3 kph vary speed and stop occasionally to let the rigs sink through the water column. Don't let them hit the bottom or you will end up snagged if over the reef.
I use the same rigs for live bait and dead pillies. The only difference is the skirt. I don't use a skirt on the live bait rigs and I place the hook through the top lip only. And the colour changes on the pilly rigs. Some days they prefer no skirt other days a pink or blue. If fishing with dead pillies have one rod without and one with a skirt. 

How do you make the rigs? 

These rigs are for one fish, once you have caught a fish you will need to change them. The wire is weakened after the battle. If you try to use them again most times you will lose the fish with the stinger breaking ( Don't say I didn't warn you). My experience is people try to over engineer these rigs. Small and fine will produce results when others fail. Don't have the drag too tight, just enough to set the hook and let them run. Slowly tighten the drag to wear them out. 99% of the time you will catch them on the stinger and be prepared when they see you and the yak they will take off again. Take your time.

Material needed:
Single strand chrome nickle alloy 27 LB pre straightened stainless steel wire leader material.
Size 12, 23 kg barrel (black) swivel
VMC P9626PS-4 size 4 3X strong treble
Size 4/0 O'shaughnessy hook
3 inch skirts pink or blue
20-30 gram sinker
Finished product will look like this:
Pilly rig has about 40cm wire trace with swivel on the end

There are numerous ways of attaching the sinker to the hook Safa showed me how to melt the lead into half a tear drop mould which works well or an easy way is to cut into the sinker and squash it on.

How to attach a pilly:
Treble into the back, front hook up from under the jaw
Pink skirt
Bait jig wrapped around foam kept in electrical case.
---
Not into DIY - Try these...