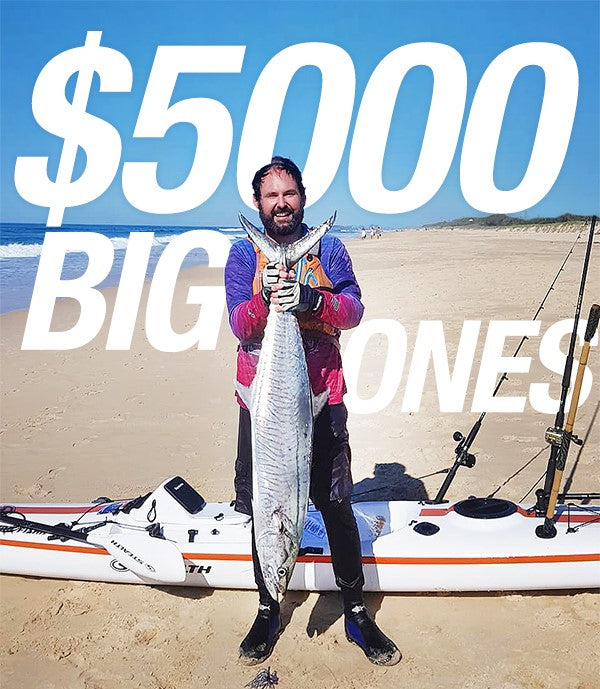 Keen to Win $5000 Kayak Fishing ?
Hi All,

Strap yourself in – this is a long and bumpy ride.

As some of you may be aware Thomas (the owner of Australian Kayak Specialists) recently lost his Granddaughter, and my Niece, Gabriella to Spinal Muscular Atrophy. And whilst Gabrielle's life was cut short by this terrible disease – we as a family were fortunate enough to spend (and enjoy) some great times with her.

Thanks to the Starlight Children's Foundation – My sister and her family were able to take Gabriella and her sisters on a trip to Noosa – this is something that made all the difference in the world for a young family struggling through something extremely tough.

We have since been thinking of ways to raise some money to donate to this amazing Charity organization- and in the process pay it forward for what they have kindly done for our family. So this is an idea I have been playing with…


The Noosa Starlight Challenge

AKS is looking at putting together a new Noosa Comp where essentially the winner would walk away with $ 5,000 Cash. Runner up would get $ 1,000 Cash and Third Place would get $ 500. Also have a Stealth Profisha 525 up for grabs as a Lucky Draw prize and Tee Shirts for the first 100 Entrants
First Place prize would be for the Heaviest fish, Second for the next heaviest fish and Third place for the third heaviest fish. Simple.

We would allocate a time and place for Fish to be weighed and following the weigh in – go to a tavern/surf club etc to have some beers and nibbles – followed by a prize giving.

Each entry fee would include a contribution toward the Starlight Children's Foundation, which would hopefully help raise the goal of a $5K donation. I would look to bring sponsors on board to help us reach these goals.
The AKS Staff (Tom, Rod, Owen and Myself) will compete (if this comp does go ahead) – if we win the $5K Prize money along with the $5K donation will go straight to Starlight ( So $10K).

I reckon we will need to get at least 100 People entered along with at least 10 sponsors (contributing cash, rather than prizes) to be able to achieve the prize pool, shirts, beers and donation – I think this is achievable, in fact I reckon we can exceed these targets given the huge prize pool and fact that you will actively be contributing to changing someone's life.
Initial thoughts are that the comp should be held in April – however I am chasing some data that may help us get the perfect fishing month. If this is the case, and the comp does take place in April – essentially, we have 8 months to get entrants and sponsors on board.
Entry fees would be structured as follows:

$100 – Early Bird Entry (If part of the first 100 entrants – this will include a tee shirt) – Closes Mid November 2018 – giving entrants over 3 months to save the $100 entry fee.
$120 – Normal Entry – Closes Mid-March 2019 (once again, heaps of time to get entry money saved)
$140 – Late Entry (This would close 2 weeks before the comp)
I realize this is a fair bit more than our usual asking price for entry into a comp, however the stakes are significantly higher and as stated before – you will be contributing to a good cause.

Anyone on any human propelled kayak is welcome to enter. PFD's will be required.

We have created a poll on our facebook page CLICK HERE to vote – please indicate if you are keen. As I am sure you can imagine – what we are trying to achieve here requires a tremendous amount of time and effort – I want to ensure we get this right. The poll will be open for the next week, pending the results we will start getting the ball rolling.
Thanks for your time
Dennis Tocknell