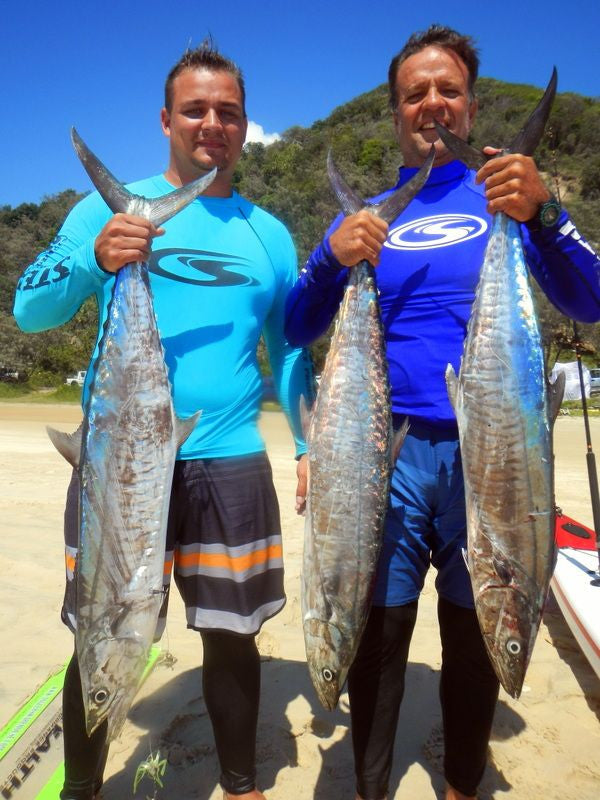 Mackerel Trolling Rigs
Mackerel Trolling rigs come in many forms - From chin weighted rigs to unweighted surface rigs - from homemade 'Safa Rigs' to off the shelf Coutamatics.
Trolling a dead bait behind a boat, jetski or kayak has long since been a favoured method for attracting the summer pelagics.
A personal favourite of mine is the humble Chin weight rig.
A weighted lead hook with one or two trebles behind has brought plenty of succces with Pelagics and even some Bill fish. These can be used with Vinyls, dusters or even naked depending on the water colour and sunlight.
I am a fan of these ones in particular as the weight allows you to troll at fair speeds whilst working like a keel to keep the bait swimming nicely. Having the hook seperate from the weight ( ie: not having the weight moulded on the hook) allows the fish to stay connected to the lead hook rather than just the trebles. 
We have both the Chin weights in a rigged configuration or in a pack of simply the weighted lead hooks - and at only $ 6 there has never been a better time to get ready for summer.