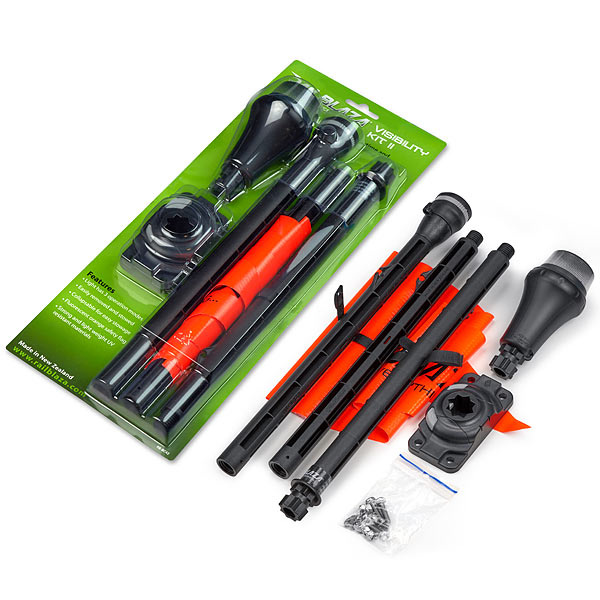 Railblaza Kayak Visibility Kit
Sold out
Original price
$91.00
-
Original price
$91.00
Availability:
Out of stock
Be safe be seen
The RAILBLAZA Kayak Visibility Kit is a must-have safety item in the kit of any kayak angler, or recreational paddler. In one convenient, value-for-money pack you get everything you need for your kayak or canoe to be seen on the water day and night.
Simply mount the StarPort HD with the supplied fastenings, lock in the 1 metre (3') Extenda Pole 1000, clip on the orange flouro flag for daytime visibility, and lock the Illuminate i360 – All-round White Navigation Light into the port on top for safety and regulatory compliance at night.
Disassembly when you're finished is quick and easy, and it will store just about anywhere.
The i360 light can also be fitted to other RAILBLAZA ports around the kayak, and the Extenda Pole 1000 can be used to display a dive or national flag, or combined with RAILBLAZA camera mounts as a camera pole.
Designed and made in New Zealand using high quality materials, and the latest LED technology
3 operation modes
Full brightness navigation mode 2NM – up to 25hrs battery life
Low brightness work mode – up to 160 hrs battery life
Flashing emergency Mode – over 200hrs battery life
Waterproof to 1 metre
Light floats without pole attached
Powered by 3 x AA batteries, not supplied
Meets USCG 2NM 33 CFR 183.810 & ABYC A-16
Independently tested by Imanna Labs Inc, Florida
Supplied with StarPort HD, but will fit any other RAILBLAZA mounting port, ordered separately.
RAILBLAZA 3 piece Extenda Pole, adjustable to 3 heights
Includes:
1 x 1 Metre, 3 piece Extenda Pole
1 x Orange flouro flag
1 x RAILBLAZA Illuminate i360 All-round White Navigation Light ( 3 x AA batteries not included)
1 x StarPort HD mount
1 x Fastening pack (4 x 5mm x 20mm 304 Stainless machine screws, washers and nylok nuts)
1 x Velcro strap for storage of Extenda Pole