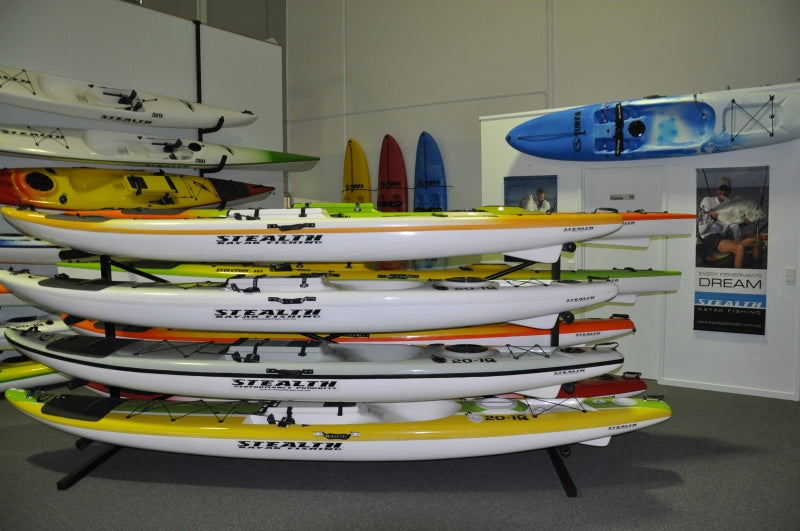 Australian Kayak Specialists turns 10 years old today
On this day 10 years ago Australian Kayak Specialists opened its doors for the first time to the public. Like many small businesses we have had our share of ups and down's; of course, it is the up's that are far easier to remember and far more enjoyable to share….

Our First Container:
The launch of our showroom had to be postponed one week owing to a delay at the Port of Brisbane, the stock was further delayed owing to it needing to be fumigated. Twenty Gaffs buried deep inside the container did not have the necessary certification to enter the country and cost us some valuable time and a fair chunk of change to have the container fumigated with Methyl Bromide.

With the shop due to open on the Saturday, we were eager to unpack the contents of the container on the Thursday after it had been delivered, however we had to wait until 6 pm for the container to be opened – given the methyl bromide. With the help of Clive, Gary and Kyle Mathias, we managed to get all 71 Kayaks and a myriad of spares and accessories inside and eventually on the racks.
AKS managed to open on time on Saturday. We hosted a small BBQ and met some kayak anglers that day, that remain our friends 10 years on.
Our First Comp:
The First Adder Rock Kayak Fishing Challenge was hosted in early 2013. We had originally planned to host the competition at Cylinder Beach – however following some sound advice from our mate Paul O'Leary (who we were yet to meet at that stage) we changed the venue to the Adder Camp grounds; given that it was larger, had better beach access and a better launch site.
In the end 44 Anglers attended this event and were given a taste of what future conditions might be like. Big Swell, rain and wind certainly did not hamper the festivities – this event has been hosted every year since, with the exception of 2020. Adder remains a highlight on our calendar and the next event marks the 10 year it will have been hosted.
* Paul O'Leary is the man behind Slayride Fishing – On Special Today - Click here >>
Lockrack arrives in Aus:
In late 2013 our first Lockrack samples arrived from South Africa with a full container following suit in early 2014. Thomas and Adrian were among the first to fit a set of Lockracks onto their vehicles; with many of the Palmy Kayak Fisherman (including myself) watching with jealousy whilst we still strapped our kayaks on.
Once we had our stock, it did not take long for the Kayak Fishing community (particularly in South East Queensland) to adopt this method of kayak transport – and Lockrack continues to be a very strong product in AKS's offering.
If you are keen on a set for your kayak– we are offering 15% over the next few days. USE Discount code: AKS10 at the checkout to receive this discount.
The Starlight Kayak Fishing Challenge:
This event whilst a highlight of ours, definitely helped sprout a few more grey hairs for both Tom and Myself. In 2019 AKS hosted the Starlight Challenge in the hopes of raising some money for the Starlight children's foundation. The Starlight Foundation, being the amazing organization that they are, had assisted our family in a time of need and this event was a nice way to pay it forward. With over 100 entries – it was the largest comp we had hosted.
Unfortunately, the event was called off early in lieu of the rather scary weather that was experienced that day – despite a few rescues on the Jetski, everyone managed to get back safely. The event was won by Noosa Local Paul Weeks who managed to wrangle a very sizeable Spanish Mackerel.


Paul kindly donated a large sum from his $5000 event winnings to the Starlight foundation. Greg Warren, who had won a lucky draw for a new kayak, kindly donated his old kayak to be sold, with 100 percent of the proceeds being donated to Starlight. In the end a tad over $10,000 was raised.
It was not the last time we would see some amazing generosity from our tribe. Scott Davis won a subsequent Noosa event and donated a large portion of his winnings to SMA Australia.
The Stealth Fusion:
The 2020 release of the Stealth Fusion was a big one for us. AKS had been pushing for a plastic like the fusion for many years so when this kayak came to fruition in 2020, it was a big deal. The Fusion has helped us bridge a gap in our market and continues to be a very popular product for us.
The fusion is unlike any other plastic on the market and with the new Fusion 350 coming soon, AKS are excited about what the future holds in this space.
If you are keen, we are offering Free shipping on these units at the moment, and if you are local and can collect -Take $200 off (Ends July 31 2022)… email sales@kayakspecialists.com.au
Staff:
Over the years we have been fortunate to have some great casual staff members. Both Owen and Rod did good work in their roles within the company. I m still not sure who is actually the better fisherman, but either way we did enjoy having them in the shop.
For a brief period, Hayley (my sister) assisted us in the shop and currently Sharon (Mum) oversees the shop on a Monday and a Friday.
Friends:

Quite probably our biggest highlight is the people we have been fortunate enough to meet and engage with over the years. From our suppliers, to our staff and our clients – we are grateful for the friendships we have made, some of which we expect will be lifelong.
Offshore kayak fishing is an amazing sport, the diversity in our clientele has been awesome to note over the years. We have engaged with Doctors, Dentists, Truckers, Plumbers, Sparkies, Professional Rugby players and even a couple of Male Strippers among others – all of whom have been a pleasure to deal with.
On behalf of AKS – I would like to thank you for your support over the years. We look forward to another 10.
Tight Lines

DT