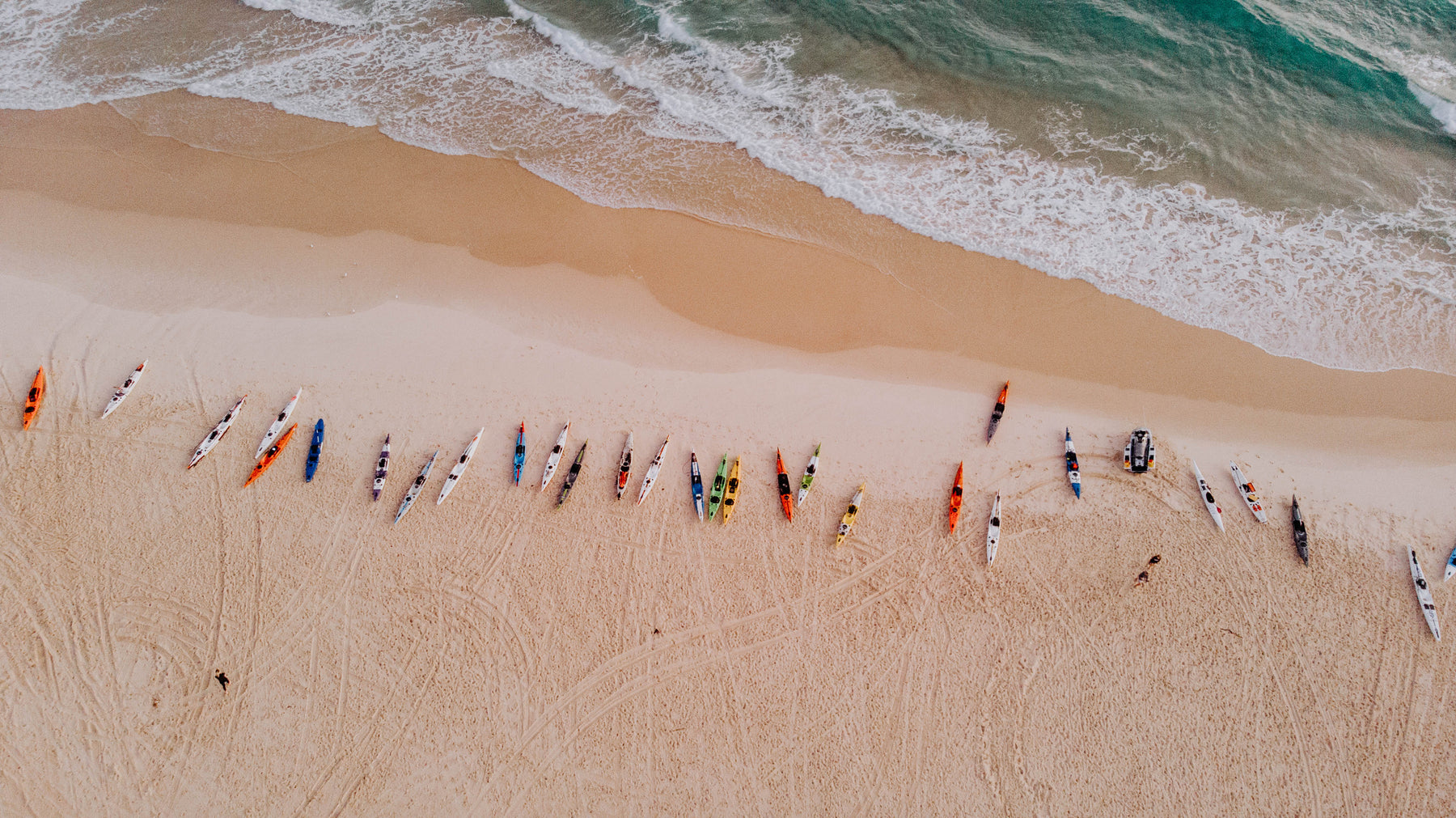 The Stealth Adder Rock Challenge 2022 – Result and Corrections.
Since early 2013 Australian Kayak Specialists have been fortunate enough to host the Stealth Adder Rock Challenge on a yearly basis; with the exception of cancellation in 2020 – the comp has proven to be a yearly highlight for both organizers and entrants alike.
As an organizer it has been enjoyable to witness changes over the years. Each year the beach in front of the camp grounds takes on a slightly different shape to the previous, each year returning competitors are more proficient paddlers and better fishermen, each year we add a few more wrinkles to our faces. The constant however seems to the be the community spirit and camaraderie.
This year saw just shy of 80 entrants put their hand up to join in on the action. As we have done since our first Adder comp – we host a BBQ briefing on the Friday evening. During this briefing session, entrants are provided with their welcome packs, beers and Boerie rolls (with thanks to our friends at Springbok Foods).
This year teams were split as follows:
Brisbane Bonito
Brisbane Bream
Brisbane Barbel
Gold Coast Guppies
Gold Coast Goatfish
Mexican Mullet
Sunny Coast Sandwhiting 
Sunny Coast Sardine
With the Sunny Coast Sardine's the Defending Champions.
As per previous Adder Events there are three fishing sessions – Saturday Morning, Saturday Arvo and Sunday Morning – followed by a prize giving.
During the three sessions some excellent fish were recorded; this included: Spanish Mackerel, Shark Mackerel, Longtail Tuna, Spangled Emperor, Grassy Sweetlip and Snapper.
This year the event was won by Brock Van Kampen, a young Gold Coaster, whose consistency was key to his success during the event. Brock managed Spanish Mackerel, Longtail Tuna and Mac Tuna Captures all of which earned him 390.2 Points.
Brock was closely followed by the boys on the Double – Dave and Reuben who managed to haul Longtail Tuna, Grassy Sweetlip, Snapper and Spangled Emperor for a total of 387.1 Points.
Owen Gray managed to take third place with a bag of Longtail Tuna, Mac Tuna and Goatfish earning him 263.4 Points
Unfortunately owing to an error on my part – Ido Bar who had actually placed fourth with Longtail Tuna, Snapper and Grassy Sweetlip captures was not correctly announced at the Prize giving. AKS would like to apologize to Ido for this mistake. Ido was awarded a prize of similar value to items on the table at the time.
Below is a list of entrants who scored fish:
| | |
| --- | --- |
|  Name | Total |
| Brock Van Kampen | 390.2 |
| Reuben and Dave Stevens | 387.1 |
| Owen Gray | 263.4 |
| Ido Bar | 235 |
| Jord Weigerink | 228.9 |
| Roger Louw | 214 |
| Jarrad Rodgers | 180 |
| Nathan Rogers | 164 |
| James Earnshaw | 160 |
| Alex White | 151 |
| Robbie Thompson | 150.5 |
| Rod Pacitti | 139.6 |
| Nathan Kirby | 116.5 |
| Olly Wren | 110 |
| Wayne Eden | 109.5 |
| Dan Bennington | 109 |
| Dom Man | 108 |
| Sam Ball | 105 |
| Blake Mossman | 98 |
| Sam Russell | 98 |
| Warren Norup | 96 |
| Mark Woods | 84 |
| Chad Martin | 23 |
| Jim Koek | 22.5 |
| Shaun Adams | 22.5 |
| Trent Perry | 21 |
| Steve Marsden | 18 |
| Doug Moore | 17.5 |
| Phil McGregor | 12.9 |
Two further corrections need to be made following an Audit of the Results.
Apologies to Doug Moore – who was missed at the prize giving. Doug's fish was measured whilst data was being entered and Doug missed out on a prize as a result. AKS will be sending Doug a small prize in line with what was left on the table at the time.
Apologies to Jord Weigerink – Jord had in fact caught 5 Species and was in fact the sole winner of the species comp, which we had initially believed as a three-way tie. Jord did win the same prize as he would have regardless, but I believed this to be worth mentioning.  Jord Caught Snapper, Spangled Emperor, Grassy Sweetlip, Spanish Mackerel and a Mac Tuna.
Following Ido's points being accurately added to the team comp count, there has been a shift in the order:

1St Place – Gold Coast Goatfish
2nd Place – Sunny Coast Sandwhiting
3rd Place – Gold Coast Guppies
4th Place – Sunny Coast Sardine
5th Place – Brisbane Bream
6th Place – Brisbane Bonito
7th Place – Brisbane Barbel
8th Place – The Mexicans
A Massive congratulations to the Gold Coast Goatfish who managed to secure the most team points – this is a huge shift from the last place at the 2021 Adder Event. Following the correction of Ido's points, the Sunny Coast Sandwhiting were elevated to second place.
The First Session saw 69 Entrants launch - 18 Anglers managed to score 27 Fish in this session.

The Second Session saw 53 Entrants launch - 9 Anglers managed to score 19 Fish.
The Third session saw 51 Entrants Launch - 15 Anglers scored 25 fish.
AKS have now had a chance to reflect on the comp and will again adjust some things in order to make it better next year. We will look to give ourselves a bit more time from the end of the third session and the prize giving - which should ensure no scoring errors. We will also tighten up some potential loop holes in the scoring system.
Well done to all involved – it was great fun catching up with everyone.
It was fantastic to see a few new faces in the crowd - we hope to see you at the next event.
AKS would like to thank the sponsors for their involvement. The Welcome packs and prize table are made so much better as a result of your involvement; entrants and organizers are grateful for your assistance in this regard.
Also thank you to Zanti Jimenez-Koek for sharing her photos with us.
Please remember to submit your photos and video into our photo and video comps – the Halco Prize packs are really nice. Also if you are keen please be sure to like and share any of the comp photos on facebook or insta.
Next up is our Coffs Harbour Comp –
Click here to find out more